Tampere represented at iCapital final in Lisbon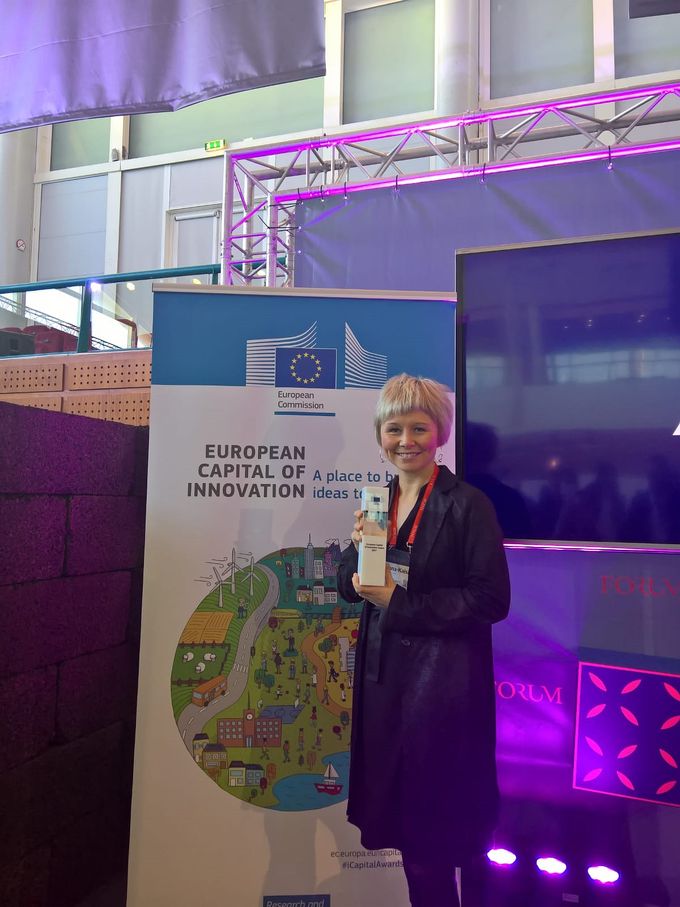 The winner of European Capital of Innovation and the runners-up have been chosen - Paris is the winner, Tallinn is the second and Tel Aviv is the third one.
The award ceremony took place at Web Summit with the European commissioner for research and innovation Carlos Moedas. Tampere was represented in the award ceremony in Lisbon by the Deputy Mayor Anna-Kaisa Heinämäki.
The city of Tampere participated in the competition with a proposal called Grow.Smart.Together. It presents the city's innovation platforms and activities through the example of Hiedanranta district and its development. It offers a great example of how citizens, companies, universities, communities and city administration develop - co-create - the city together.
- We emphasized Hiedanranta as a completely new type of smart and human-centric development environment for urban development and services. We describe the co-creation model - how citizens and communities themselves are creating new activities and through them new services and jobs, say Director Hannele Räikkönen from Tampere EU Office and Director Esa Kokkonen from Baltic Institute of Finland, responsible for the application.
- It's a great recognition to Tampere and to our co-creation approach to smart and sustainable city to be among the top cities in the iCapital competition, says Mayor Lauri Lyly.
- We have received a lot of visibility for our activities through the competition and by being a finalist. We're now part of a wide and substantial innovation community and will become innovation ambassadors. We will continue to develop smart and sustainable city together with citizens and European partners. The competition has substantially increased awareness of Tampere as an innovation hub, adds Deputy Mayor Anna-Kaisa Heinämäki from award ceremony in Lisbon.
The first European Capital of Innovation was chosen in 2014. The winner was Barcelona. Amsterdam won the competition in 2016. The competition searches for cities that have innovative ideas to improve the quality of urban life and for getting citizens more involved in their communities.
More information:
Director, Tampere Region EU Office - Hannele Räikkönen, tel. +358 40 7763446
Director, Baltic Institute of Finland - Esa Kokkonen, tel. +358 50 516 9111